The Surprising Ways Vision Impairment Can Impact Couples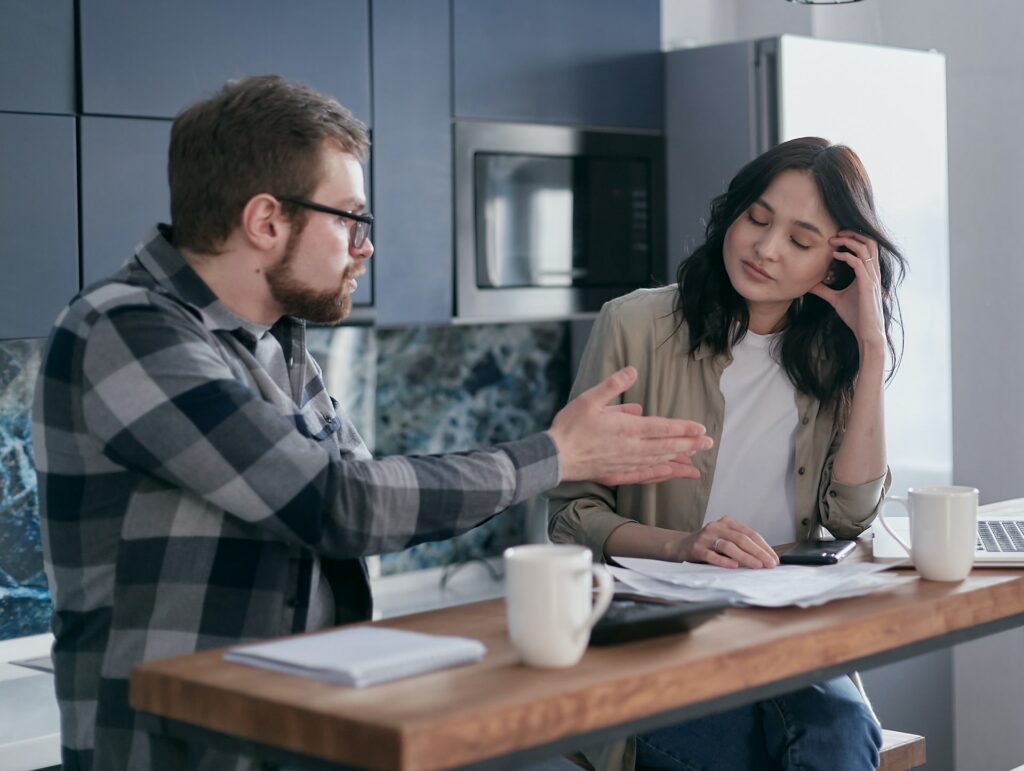 Photo by Mikhail Nilov: https://www.pexels.com/photo/disappointed-man-talking-to-his-partner-6964102/
Your eye health can be a good indicator of your physical health, potentially alerting you to simple things like fatigue as well as conditions like diabetes and jaundice.
Interestingly, eye health can also have an impact on your relationship. For one, poor eye health can negatively affect your relationship or marriage in the long term. According to a study on the link between vision impairment and depressive symptoms, vision impairment is a strong predictor of depression among older adults, contributing to an increased avoidance of social situations.
Additionally, vision impairment can hinder you from accomplishing everyday tasks and activities such as mobility, reading, driving, meal prep, housecleaning, and self-care. This can be detrimental if you're in a relationship or a marriage, as your partner can also feel strained by the limitations you face.

On the other hand, researchers have found that a partnership or relationship can have significantly positive effects on older adults with vision impairment through practical help and social and emotional support. In this post, we'll look at some of the ways vision impairment can impact couples and relationships, along with some tips for eye health protection:

Vision issues and your relationship
Studies have found that spouse vision impairment can negatively impact partner depression, physical functioning, well-being, social involvement, and overall marriage quality. This may be because spouses share conditions and traits such as mood states, depressive symptomatology, physical activity, and physical health due to exposures to the same environments, similar histories, and sharing of risk factors such as diet and smoking.

As such, it's essential for eye health treatment and support to involve family members as much as possible. This includes relying on your partner's help with tasks and emotional support. Research indicates that good communication among partners can help decrease stress levels and avoid miscommunication due to poor eye health (such as reading the wrong text or numbers or misplacing items due to vision impairment). Rehabilitation services for eye health support can also help partners identify which support is helpful and which isn't.

In our previous post on the impact of fear in marriage, we discussed how fear of the unknown could lead to people being stuck in unhappy marriages. For some people, problems with health — even eye health — can lead to this fear of an uncertain future. To help overcome and control this sense of dread, before it can affect your relationship or marriage, it's important to understand the sources that cause this fear and identify what you can do to relieve it. If vision impairment is a growing problem in the marriage, it's not the end of the world. Certain lifestyle changes and practices can help you and your partner along the way.

Tips for your and your partner's eye health protection
One of the first things you should consider is getting appropriate eyewear to help you or your partner better handle vision issues. Having the proper eyewear is essential for both vision correction and even protection from environmental hazards. While corrective glasses can help you see better, prescription sunglasses offer added protection against harmful UV rays from sunlight and other light sources.
If you or your partner has vision issues related to light sensitivity, investing in a good pair of sunglasses can help make a day outdoors or vacation more pleasant. Sunglasses with polarized lenses, for example, can reduce glare and improve contrast. Brands like Wiley and Ray-Ban offer unisex models, so you can have fun choosing matching (or contrasting) designs for each of you, ensuring you or your partner can see better when driving or spending time outdoors.

Finally, an eye test or checkup with your eye doctor is necessary to get the proper eyewear for your or your partner's vision needs. It can be good for you and your partner to get regular eye checkups together.
As we age, not only do we develop the tendency for age-related vision problems, but we can also develop other severe health conditions. For example, studies have found that changes in the retina can indicate the presence of Alzheimer's or other forms of dementia in people. According to the AAO, changes in eye tissue can also indicate brain diseases like Parkinson's disease and mad cow disease.
Annual checkups are critical to ensure you and your partner have a healthy vision throughout your years together. You can work on setting eye checkup "dates" to get them together, as getting them simultaneously may save you costs instead of going on separate trips.
For more tips for improving your marriage, check out more posts and resources from Mad About Marriage to help you unlock your best marriage!
Article written by Sophia Emma exclusively for Mad About Marriage