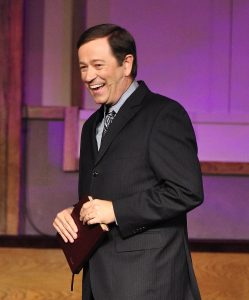 Mike Tucker is the Speaker/Director for Faith For Today Television, the oldest religious television broadcast in the world. He has directed Faith For Today since 2004 and is co-host of the ministry's flagship program, Lifestyle Magazine. Mike's ministry is marked by service to God and to his community. He served for 17 years as Senior Pastor of the 2,000-member Seventh-day Adventist Church in Arlington, Texas and has additional experience as a Counselor, Christian High School Bible Teacher, Youth Pastor, and Senior Chaplain for medical and psychiatric facilities.
Mike holds a Master's Degree in Counseling and has served as a "Pastor's Pastor" for ministers in his denomination. He has authored several books, including Journal of a Lonely God; Jesus, He's All You'll Ever Need; Heart Food; Jesus, Your Heart's Desire; Every Good Thing; Ten Keys to a Happy Marriage, and more.
Mike lives in Dallas, Texas, where he enjoys spending time with his two adult daughters, his son-in-law, and his two fantastic grandchildren!