Gayle Tucker, former co-host of Lifestyle Magazine, passed away peacefully at home on April 10, 2016 after a struggle with pancreatic cancer.
Gayle joined Faith For Today in 2004 and worked with her husband, Pastor Mike Tucker, to connect the ministry to local congregations through innovative programming and live seminars. In 2007 she began co-hosting Lifestyle Magazine, and in 2009 she joined the Faith for Today television team full-time as Associate Speaker for the ministry.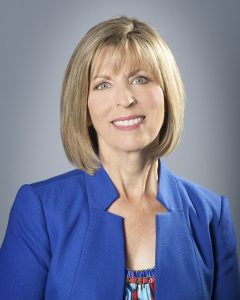 Daniel R. Jackson, President of the Seventh-day Adventist Church in North America, describes the first time he met the Tuckers, about 10 years ago, as most memorable. "There was an almost instant connection with her and Mike that lasted until this day," he says. "She was always with Mike — but she had a vision and passion for ministry and for reaching people in relevant ways."
While Gayle was a partner in ministry, as Mike's wife, she also worked as an associate pastor at the Arlington Seventh-day Adventist Church in Arlington, Texas for 16 years, serving as the Pastor of Administration, Music, and Worship, with focus areas in children's and women's ministries. Gayle was the first woman to become a Credentialed Commissioned Minister in the Southwestern Union Conference of Seventh-day Adventists. Prior to pastoring in Arlington, she spent multiple years as a schoolteacher.
Gayle's background in Elementary Education was influential in making family relationships an emphasis in her ministry. Gayle and Mike have traveled North America as co-presenters for From This Day Forward and Love For A Lifetime marriage conferences and co-created Mad About Marriage, a seminar project that includes a television series, marriage seminars, and small group curriculums.
She also co-authored the books Mad About Marriage, Mantras for Marriage, and Marriage Moments.
"She had a tremendous impact on couples," says Jackson. "As a woman, she demonstrated a level of ministry commitment that is a model."
"Gayle was loyal to God, to Mike, to her family, and to the church," Jackson adds. "She was a gracious, mature Christian who was passionate to let people know that the gospel of Jesus could and should be played out in everyday life and in everyday relationships."
"I believe Gayle Tucker has been the most recognized Adventist female television personality in our denomination," says Gordon Pifher, President of Adventist Media Ministries and Chair of the Faith for Today executive committee. "Gayle had millions of fans and followers as host and co-host of the award-winning Lifestyle Magazine program that is aired on more than 150 television stations/networks globally."
"It was just on March 5, 2016, in Vancouver, British Columbia, that Gayle and Mike were presenting timeless principles for building strong relationships. And now, a few weeks later, we are talking about memories," Pifher adds.
Members of the Faith For Today team remember Gayle as a gracious, fun, gentle, and wise leader. She was often referred to as the "glue" that made everything work well together. The team agrees that her passion for family, her mentorship role in ministry, her love for Christ, and her devotion to Mike has made an impact upon this world that cannot be measured. Her legacy of love and ministry will shine on in all who knew her.
The Faith For Today family says that they celebrate Gayle's life and look forward to seeing her again when Jesus returns to take us to the earth made new.
"Faith for Today and Lifestyle Magazine will continue to be a strong avenue to reach millions with a practical message of hope and wholeness, but Gayle will be greatly missed," says Pifher.